Planning and Managing Erasmus+ School to School and other Strategic Partnerships
The aim of this training is to enable people to plan, start and manage a European Strategic Partnership (in the Erasmus+ Program KA 2 Activities). The course addresses teachers planning or managing school-to-school partnerships as well as people involved in partnerships with a focus on AE (Adult Education), VET (Vocational education and Training) or HE (Higher Education).
Basically, all the basic topics of general project management – as mentioned below – are discussed; in addition, the following topic taught as competencies will also be included:
Be able to plan and organize a successful Kick-off workshop
Be able to select the best-fitting communication methods (and tools)
Be able to use well-defined tools for cooperation
Knowledge and praxis about the data exchange
Be able to define good evaluation processes and evaluation methods
Be able to compile the application forms for European Funded Projects
Execution of the project using the ERASMUS+ Mobility Tool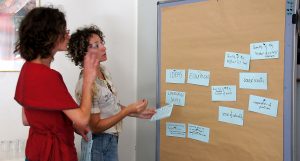 The focus of the course is to learn about techniques to plan and manage Erasmus+ Strategic Partnerships (Former Comenius and Grundtvig Partnerships). You become acquainted with creativity methods that can be used to increase the quality of your project and to save time during the planning phase. You learn to plan and moderate workshops and meetings. The knowledge is useful for planning any kind of project as well. All competence oriented learning outcomes are practised in groups with discussion and trainers' feedback.
During the course the participants develop descriptions about the mentioned issues focusing on the typical application forms of the different EU activities (Erasmus+ Strategic Partnerships KA 2). Teamwork, practical exercises and presentations are an important part of this training.
Dates and Venue:
Venue: Wiener Neustadt (Austria)
Dates:
1st session: June 2024
Other sessions: December 2024
Duration: 5 days with 50 lessons (25 on-site lessons and 25 distance lessons)
Course fee: €650
The course fee consists of the course fee of 5 days at €70 and the organizational costs of €300 (can be funded completely with a KA 1 grant)
Social program: We offer a guided tour through town, included in the course/subsistence fee.