Technology Enhanced Teaching (TET)
Technology Enhanced Teaching (or Training), acronym TET, is an innovative onsite teaching method making intensively use of technology. Due to the affinity to TEL the new acronym TET is introduced.
This system is a complete innovation and was developed between 2010 and 2016. The teaching method was presented for the first time at the ICERI 2017 (International Conference for Education, Research and Innovation).
The method bases on the consequently and permanently use of multiple devices (Laptops, tablets or similar devices) during class: Taking notes is supplied by basic texts provided by the teacher (or trainer) containing the chapter's structure with headings, a package of graphics and images to be inserted into the text during lesson, and additional multimedia based material. The content is delivered by lectures using presentations including the possibility of supplementing content by the learners. Students are involved interactively during class to provide active learning. These activities cover small group work as well as discussions. The learning goals are defined using a competence model. Assessment is done by formative evaluation and regularly competence check.
The course gives an introduction to this teaching & training method with practical hands-on activities.
Competence Oriented Training
Our trainings are competence oriented and define competence oriented learning outcomes. Competence constist of knowledge, skills and attitudes. The pedagogical approach is learner-centered learning.
Dates and Time Shedule
The course is split in a pre-phase (validated with 25 hours training, done by distance learning), a face to face phase (25 hours teaching in the computer lab in Wiener Neustadt within 5 days) and a voluntary post phase (valide 10 hours lessons) where the participants practice their new competences and create a small pilote course fitting to the subjects they teach.
Dates and Venue 2018
1st session: July 16until July 22, 2018
2nd session: October 2018 (not yet fixed)
Further dates planned!
Individual sessions: Please ask for individual sessions (flexible dates and additional competences fitting to individual needs and European Development Plan possible) possible for groups up from 6 people participating.
The standard course will not be hold with less than 6 participants!
Competences taught during the project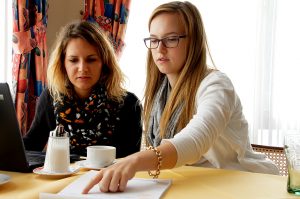 This course gives attention to Onsite Teaching using technical devices (laptops, notebooks, tablets and smartphones). The course enables teachers to structure their teaching, to prepare tne necessary material as well as methods to implement the teaching. A special focus is laid on the use of multimedia and interactive elements (pictures, videos, animations, slide shows, sound files) including the technique behind. The competences mentioned below are focus of the training activity:
Competence to plan, develop and create TET Teaching
Competence to design lessons based on Competence Oriented Learning (and teaching)
Be able to plan, develop and implement multimedia elements (Knowledge about multimedia elements, their use and the practical implementation)
Be able to use special tools (graphic,picture processing, video, sound) to create multimedia elements for the course (Knowledge: Image, video and audio file formats) or to adapt existing multimedia material for your teaching.
Be able to develop learning units and to plan and to structure lessons
Be able to use appropriate tools to distribute the basic materials
Be able to use different programs to plan and structure the provided content
Be able to develop and create (structured) reuseable content
Be able to instruct and motivate the students for efficient digital note taking.
Organisation
Preparation Phase
The preparation work will be done using the TEL platforms of the EBI (Moodle 3.X). There, the course materials are provided and most of the theoretical background knowledge is taught. The participants will be able to access them by entering their personal password. They should start thematic discussions in the web forum of the platform (with the help of a tutor). All participants will receive documents with basic definitions and descriptions for doing their preparation work.
In the first phase there are eTivities to solve and developed material is uploaded to a first assessment.
Onsite Teaching (Face to face)
During the onsite lessons the participants work on the other topics, get assisted by tutors and finish the working program. The onsite teaching takes place in Wiener Neustadt in our modern computer lab. The course is finished by an assessment.
Final Distance Learning
In a final distance learning part the participants are tutored to develop their individual teaching unit. The tutors assist to develop their own small TEL course designed during the classroom teaching.
Fees, Subsistence Costs and Social Activities
Course Fee
The course fee for the five days face to face teaching including the preparation and post face is 650 €.  This fee consist of the course fee of 5 days at 70 € and the organizational costs of 300 € (can be funded completely with a KA 1 grant).
Subsistence
We offer a special subsistence package (6 nights in a four star hotel in the center of the town and near the railway station, including lunch, coffee breaks of the course). Please ask for the subsistance costs and the subsistance conditions.
Social program
We offer a guided tour througt town and an evening with dinner at a typical Austrian "Heurigen".