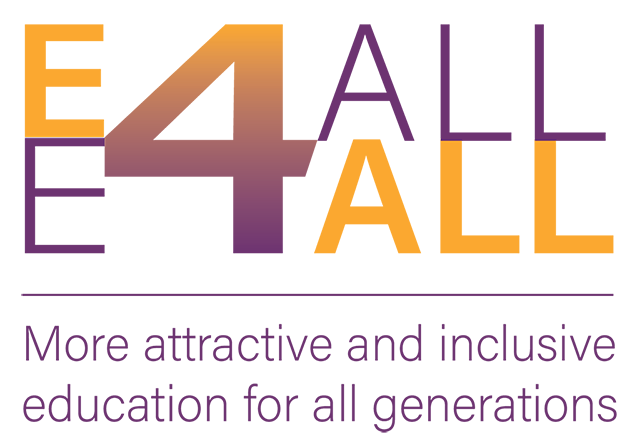 E4All is the acronym of the new Erasmus+ Exchange of Good Practices Project "More attractive and inclusive education for all generations", Project Number 2020-1-PL01-KA204-082020. The EBI/EIE is the Austrian partner in this project.
Project Aims
The general aim of the project is to support adult educators in designing, delivering, and promoting more attractive and inclusive education for all generations of adult learners.
Participants
The direct target group of the project includes the members, workers, co-workers, educators, and volunteers of the Third Sector adult education organisations (i.e. Civil Society Organisations, including informal groups, Non-governmental organisations, and other non-profit organisations).
The indirect target group includes a wide range of education–related organisations, institutions, and decision-makers.
The dissemination activities would reach, in total, at least 44.619 recipients.
Activities
The design of the work programme is chronological. All project activities are divided into 3 phases and 13 Work Packages (WP), including transversal activities of management, evaluation and dissemination. There are 6 Transnational Project Meetings (TPM) planned: 1 kick-off meeting, one summary meeting, and 4 working meetings aiming to exchange experiences and good practices. The workflow during the 4 working meetings gives each partner a space to share their expertise in the field of intergenerational learning.
There are also two international short-term joint staff training events planned. The work programme also includes one start-up package (WP01) and a concluding package (WP10) finalized in delivering final recommendations and the Exit Strategy.
Partners
Fundacja Alternatywnych Inicjatyw Edukacyjnych (Coordinator)

Our main goal is Lifelong Learning promoting – developing of one's abilities, predispositions, and interests – both in personal and professional life. Based on our international contacts, we are using international good practices in adult learning. We are promoting and supporting vocational and personal development through culture and art (professional as well as unprofessional), active democracy, and educational mobilities in the EU. We work with intergenerational groups, including both the seniors (Third Age Universities among others) and the youth and youth workers (Eurodesk). Foundation of Alternative Educational Initiatives was founded in April 2011 in Bielsko-Biała (South of Poland, Silesian Voivodship).
Webpage: fundacjaaie.eu
Associazione Culturale EduVita E.T.S., ITALY

EduVita is an Italian NGO dedicated to the promotion of lifelong learning and the development of intergenerational and intercultural relationships. It is a coworking and co-learning space, a cultural and educational centre in Lecce, South Italy, founded in January 2019. Their main activities are:
intergenerational learning
language courses for elderly people
intercultural learning
digital education
promoting of youth initiative and entrepreneurship
Escuela Oficial de Idiomas Madrid-Villaverde
The Official School of Languages Madrid-Villaverde (EOI Madrid-Villaverde) and its Extension El Espinillo is a public language school established in 1990 in the capital city of Spain, Madrid.
We have more than a thousand students (16-65y.o.) including teachers, unemployed and retired people, housewives, young professionals, or university students,  just to mention some.
In our institution, we teach and certify language learning in English, French, and German.
Our main goal is to promote lifelong language learning to strengthen the students' professional development, communication skills, and personal growth through language and culture. In addition to teaching, our School gives our students access to extracurricular activities with multicultural content
Link: www.eoivillaverde.com
Challedu

Challedu pioneers new models of learning, inclusion, and engagement. Its team consists of educators, teachers, experts, and game designers and designs playful experiences and games with the aim to transform every activity into an irresistible experience. The scope is to unlock the transformative power of people as seekers and solvers of complex problems, risk-takers, inventors, and visionaries. Our work also empowers creativity, fantasy, inclusion, and empathy.
Webpage: challedu.com
Ecological Future Education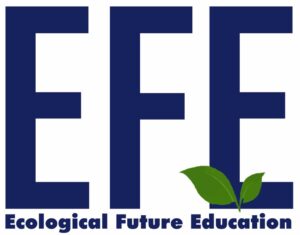 Ecological Future Education (hereinafter – EFE) is a Non-Profit private organisation that has been created to promote a sustainable development mindset in everyday life.
EFE aims to help introduce a new learning and thinking method which would promote environmental awareness as an interesting adventure where everyone participates, thus making the world a better place.
The objective is to inform youth about environmental issues, and daily habit awareness, to improve young people's skills and competencies concerning green thinking, and to raise social responsibility.
Target groups – social risk groups, young people with destructive problems, adults, and young people. EFE provides training for educators, trainers, and youth workers.
Webpage: www.efe.lv/eng
Recommendations for more inclusive intergenerational adult education
These recommendations are the jointly developed final results of the project.
Download the recommendations here
Download in English language
Download in German Language
---
Activities in the frame of the project
---

The European Commission support for the production of this publication does not constitute an endorsement of the contents which reflects the views only of the authors, and the Commission cannot be held responsi­ble for any use which may be made of the information contained therein.