What is TEL (Technology Enhanced Learning, former eLearning)?
TEL is going to replace the outdated (an not precisely defined term eLearning). We are going to continue our very successful In-Service Trainings with the first TEL course. The focus is set on teaching theory, interactivity and use of multimedia, the learnplatform Moodle and the use of freeware tools. The base for this KA 1 project TEL (Technology Enhanced Learning) is a special Blended Learning Course (former IST Training Course).
Competence Oriented Training
Our trainings are competence oriented and define competence oriented learning outcomes. Competence constist of knowledge, skills and attitudes. The pedagogical approach is learner-centered learning.
Dates and Time Shedule
The course is split in a pre-phase (validated with 25 hours training, done by distance learning), a face to face phase (25 hours teaching in the computer lab in Wiener Neustadt within 5 days) and a voluntary post phase (valide 10 hours lessons) where the participants practice their new competences and create a small pilote course fitting to the subjects they teach.
Dates and Venue 2024
1st session: November 2024
Dates and Venue 205
1st session: June 2025
2nd session: August 2025
Individual sessions: Please ask for individual sessions (flexible dates and additional competences fitting to individual needs and European Development Plan possible) possible for groups up from 6 people participating.
Competences taught during the project
This course gives attention to eLearning and the use of multimedia and interactive elements (pictures, videos, animations, slide shows, sound files) including the technique behind. The competences mentioned below are the focus of the training activity:
Competence to plan, develop and create an TEL course (Knowledge about the theory of TEL, practical group work on implementation)
Competence to design courses based on Competence Oriented Learning (and teaching) using .
Be able to plan, develop and implement learning content.
Be able to use special tools (graphic, picture processing, video, sound) to create multimedia elements for the course (Knowledge: Image, video and audio file formats)
Be able to produce your own video and audio files
Be able to develop learning units and to plan and to structure lessons
Be able to use the basics of an Distance Learning (or TEL) platform (We use Moodle in the current version 4.X)
Be able to publish the developed TEL lessons in a multiplatform way (CD solutions, USB-PenDrive or Moodle)
Be able to use different programs to plan and structure the provided content
Be able to to develop (structured) and and create reuseable content
Organisation
Preparation Phase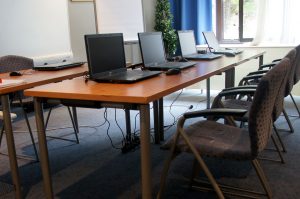 The preparation work will be done using the TEL platforms of the EBI (Moodle 3.X). There, the course materials are provided and most of the theoretical background knowledge is taught. The participants will be able to access them by entering their personal password. They should start thematic discussions in the web forum of the platform (with the help of a tutor). All participants will receive documents with basic definitions and descriptions for doing their preparation work.
In the first phase there are eTivities to solve and developed material is uploaded to a first assessment.
Onsite Teaching (Face to face)
During the onsite lessons the participants work on the other topics, get assisted by tutors and finish the working program. The onsite teaching takes place in Wiener Neustadt in our modern computer lab. The course is finished by an assessment.
Final Distance Learning
In a final distance learning part the participants are tutored to develop their individual teaching unit. The tutors assist to develop their own small TEL course designed during the classroom teaching.
Fees, Subsistence Costs and Social Activities
Course Fee
The course fee for the five days face to face teaching including the preparation and post face is 650 €.  This fee consist of the course fee of 5 days at 70 € and the organizational costs of 300 € (can be funded completely with a KA 1 grant).
Subsistence
We offer a special subsistence package (6 nights in a four star hotel in the center of the town and near the railway station, including lunch, coffee breaks of the course). Please ask for the subsistance costs and the subsistance conditions.
Social program
We offer a guided tour througt town and an evening with dinner at a typical Austrian "Heurigen".