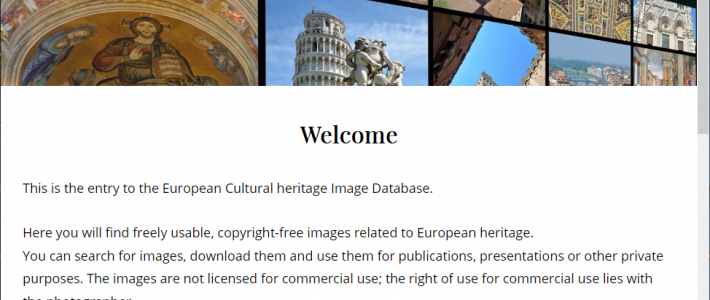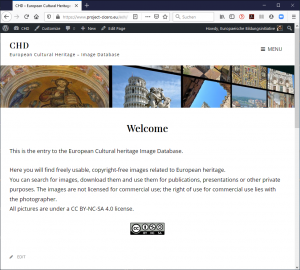 The EBI/EIE is partner in the CICERO Erasmus+ Project 2018-1-SE01-KA204-039051. Currently the EBI/EIE team is develloping IO #2, the ECH Database.
This is the first screen shot of the webpage hosting the database of the "European Cultural Heritage Image Database".
This  is an outcome of the CICERO project and will offer CC-4.0 licensed pictures of typical European Heritage. The images are free to use (except for commercial use) and will cover various topics representing the treasure of European Culture.
The European Commission describes European Cultural Heritage as
"… a rich and diverse mosaic of cultural and creative expressions, an inheritance from previous generations of Europeans and a legacy for those to come.

It includes natural, built and archaeological sites, museums, monuments, artworks, historic cities, literary, musical and audiovisual works, and the knowledge, practices and traditions of European citizens.

Cultural heritage enriches the individual lives of citizens, is a driving force for the cultural and creative sectors, and plays a role in creating and enhancing Europe's social capital. It is also an important resource for economic growth, employment and social cohesion, offering the potential to revitalise urban and rural areas and promote sustainable tourism."
Images for this database are taken from the upcoming photo contest that will take place in the frame of the project as well.