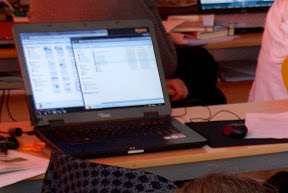 The EBI/EIE is partner in a new ERASMUS+ project where the EBI/EIE has written the application.The project aims to develop and evaluate multimedia based teaching material using the innovative "Analogous Compare and Transfer" Method (acronym ACAT) approach to teach science subjects, namely physics, biology and chemistry. The ACAT method is a methodology concerted on the pattern of thinking of girls enhancing the well-known logical paths boys are using normally and supports the learning of boys as well.
A study from 2017 proofs the acceptance of the pedagogical approach and confirms the usability with an evident preference of female students. In general, the students appreciate the method with higher approval of the female learners. In the same way, the female learners show a stronger agreement to the use of multimedia material, specifically using the described method and to enable the transfer from everyday life images to scientific imagination and clear ideas dealing with the currently discussed problem.
Project Objectives
The objectives are
Use of an "image-based teaching system" which favours the scientific learning behaviour of (approx. 70 % of) girls with a good learning success for boys as well
Developing multimedia-based and/or interactive examples of best practice (called tools in this application) focusing on physics (for example quantum physics), biology (for example virtual dissections) and chemistry (comprehending chirality utilizing VR-technology).
Use a self-evaluation model for students to estimate their increase of competences
Evaluation of these examples in several schools (transnational)
Development of a transferability guide for teachers
Publishing of the created and evaluated material as OERs
The project starts with December 2018 and lasts for two years.
The applicant organisation is the Colegio Internacional Costa Adeje (Spain), partners are Dragonskolan (Sweden), the Europäische Bildungsinitiative (Austria) and the Dublin Dun Laoghaire Education and Training Board (Ireland).