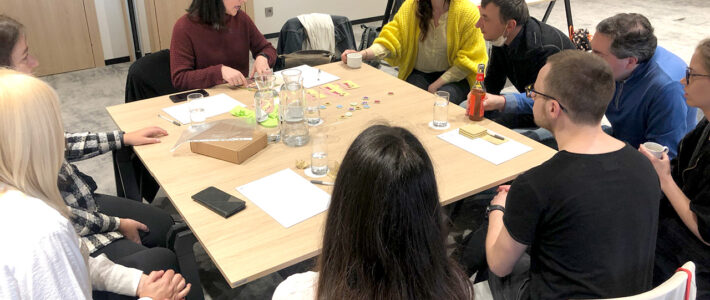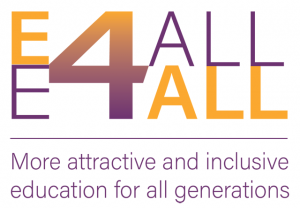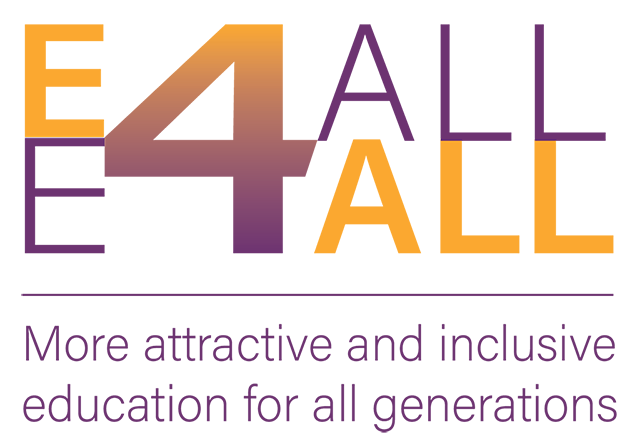 E4ALL means Education For All! In the frame of this Erasmus+ Project, the trainees from 6 different countries came to Wiener Neustadt to exchange their knowledge in Games for Education, Intergenerational Learning, and Flipped Learning 3.0 during a three days' learning and training event.  The training took place in the Hilton Garden Inn in Wiener Neustadt. 20 trainees attended the courses and learned together in a cooperative and friendly atmosphere. The Austrian Partner EBI hosted the training and presented the trainees with the cultural and economical background of Wiener Neustadt as well.
Here are some images from the first day (watch the slider!).
The topics of the first day were:
GAMES4ALL – TEAM BUILDING ACTIVITY (Challedu)
INTERGENERATIONAL LEARNING APPROACH, part 1 (EduVita)

"learn it!"
"practice it!"

INTERGENERATIONAL LEARNING APPROACH, part 2 (EduVita)

ART-THERAPY (practice it!)
(design it!)
Learning aims of the E4ALL – training
INTERGENERATIONAL LEARNING APPROACH (learn it!)
Understanding the goals of IGL (intergenerational learning) and the difference between multigenerational and intergenerational learning
Awareness of the role of emotional intelligence in IGL
INTERGENERATIONAL LEARNING APPROACH (practice it!)
Developing the competence of inclusion of both generations  in teaching/learning process (elderly people as teachers, young people as teachers) on the example of language class with IGL approach
ART-THERAPY (practice it!)
Learning the basics of Art-therapy as a tool for team building and group dynamics
Raising awareness of Art-therapy: literature for further reading
INTERGENERATIONAL LEARNING APPROACH (design it!)
Ability to design a short IGL activity in small groups
Second day – Games
Challedu demonstrated three analog games, developed in a former project.
In consequence, the trains developed in three groups their own games. After intensive discussions, the trainees tested the prototypes of the games.
Third day – Critical Thinking & Flipped Learning 3.0
Peter Mazohl and Charlotte Gatti elaborated a basic approach to Critical Thinking with the trainees. In a short workshop, the most relevant items were summarized.
The Flipped Learning 3.0 Workshop started with the preparation work and the publishing of the pre-knowledge Distance Learning course (Individual Space) of the training. As a result, the participants could build up the basic knowledge about architecture and history in Wiener Neustadt. Additionally, issues like Backward Design and Bloom's taxonomy were included in this training.
Active Learning, various group activities, and guided group discussions dominated the Group Learning Space. Essential material for this training has been transferred from the FAdE project (Flipped Adult Education)
Course leaders for the E4ALL Training
The E4ALL training was conducted by the trainers delegated from EduVita, Challedu, and EBI/EIE. The training would be led by 1-3 trainers from the thematic expert organization each day. The course's steering group is represented by a minimum of one person delegated from each organization organizing the training.