eLearning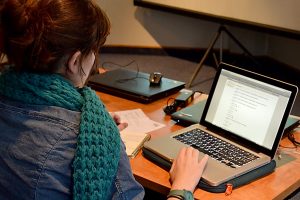 means to learn with electronic media. In many descriptions it's reduced to learning using the internet. That's basically not correct. eLearning covers the learning process supported by any means of electronically media (Computer, CD-ROM, digitized video, sound, the Internet, …).
eLearning as a term is outdated and should be replaced by "Technology Enhanced Learning". This covers all the learning techniques as mentioned above, also the learning using the internet (as the access to the Internet only can be done by using multiple devices1 the learning with the Internet is fully covered by this term).

Blended Learning combines classical classroom teaching with eLearning. You may also call it "Hybrid Learning" or "Mixed Learning" – there are a lot of different terms existing – all meaning the same.
eLearning does not exist apart from already established and traditional learning venues. As new technology is introduced and adopted, it immediately becomes integrated with the instructional technology that preceded it. This is called "Blended Learning" or "Hybrid Learning" delivery.
Online learning content and strategies are showing up in classrooms nationwide. Digital content is replacing textbooks and much of it was initially used in formal or informal learning online.
If you are interested in technology enhanced learning and teaching methods have a closer look atour pages and in the blog!

---
1 Multiple devices means computers, laptops, norebooks, convertibles, tablets, and even smartphones. The use and the term "multiple devices" was created by Carlos Guerrero (SAFA) and Peter Mazohl (EBI/EIE). You will find mor information in this blog post!
What does eLearning and Blended Learning mean?